Reduce hospital readmission rate
About PatientBuddy
PatientBuddy enhances the quality of post-discharge care through built-in features such as communication, monitoring, reporting, analytics and decision making, thereby reducing avoidable readmissions and associated costs.
Cost Effective Post-Discharge Interventions
Inadequate patient and caregiver communication is the biggest risk to hospital readmission reduction initiatives. Avoidable readmissions not only contribute to the high opex costs, but also impact the quality of effective care transitions. PatientBuddy provides a comprehensive platform to proactively monitor and identify patients with high risk of hospital readmission and apply effective interventions to mitigate that risk.
View Product Sheet
Request Demo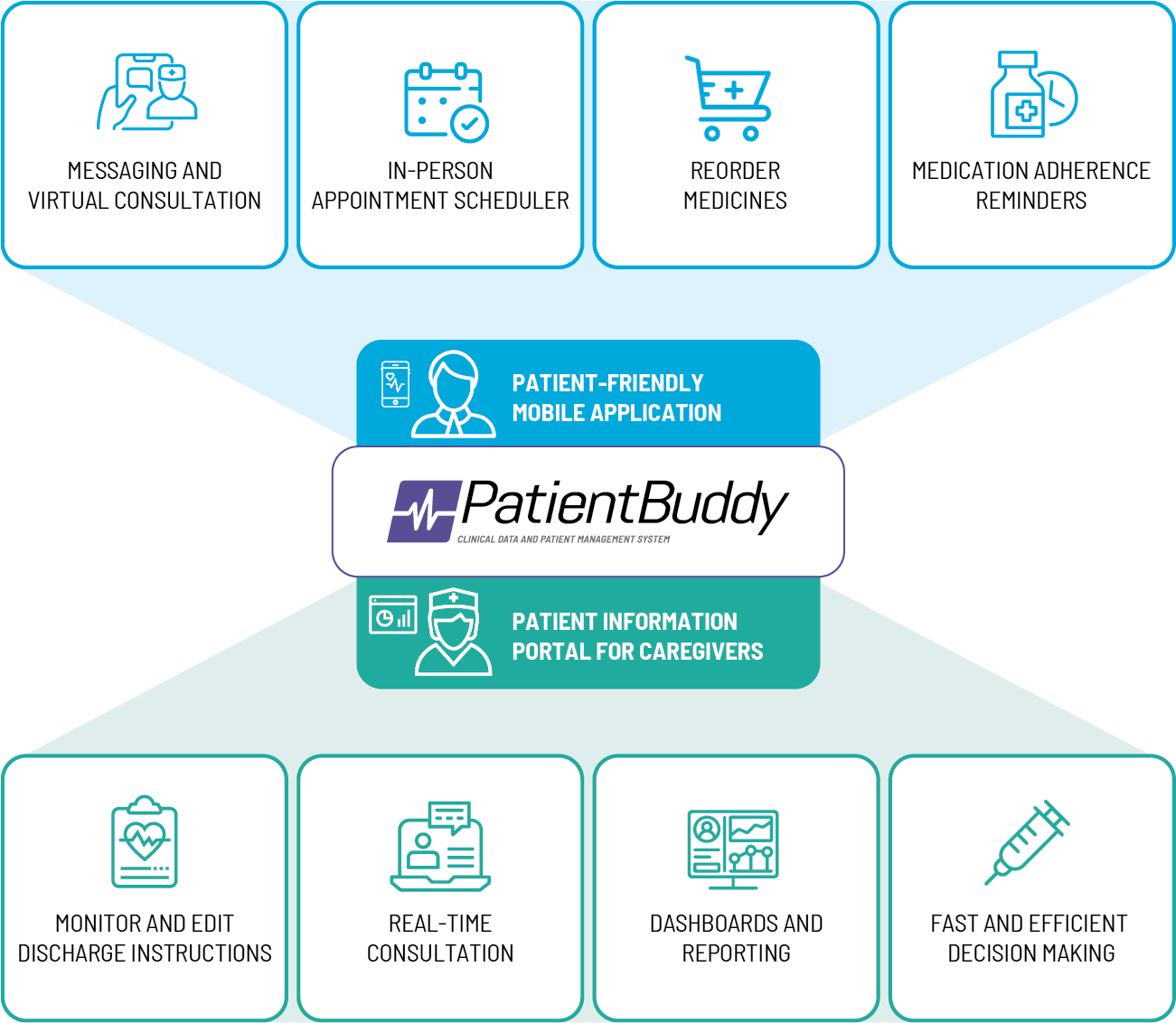 Features
Next Generation Technology
Key Features
Powerful analytics tools to track patient's progress and apply interventions if needed
Sophisticated medication adherence tools
Data visualization mechanisms to keep patients informed of their progress
Case manager dashboard that tracks patient's medication adherence, profiles, discharge instructions and doctor information
Multi-device compatible, anytime-anywhere communication tools
Gamification features to keep the patient motivated and engaged.
Information sharing features to increase awareness among patients using relevant web links and videos
EHR and HIE integration features
Advantage
Better Care Coordination for Better Health Outcomes
Streamlines care coordinator workflows and enhances communication with the patient leading to better health outcomes
Intelligent Dashboards and Analytics to Reduce Readmissions
Provides the hospital case manager with meaningful and actionable data to apply necessary interventions, reducing the need for readmissions
Improved Patient Enagagement to Reduce Healthcare Costs
Enhances patient compliance to discharge plans using sophisticated medication adherence tools, feedback mechanisms for patient awareness and gamification to reduce chances of readmissions and resulting costs.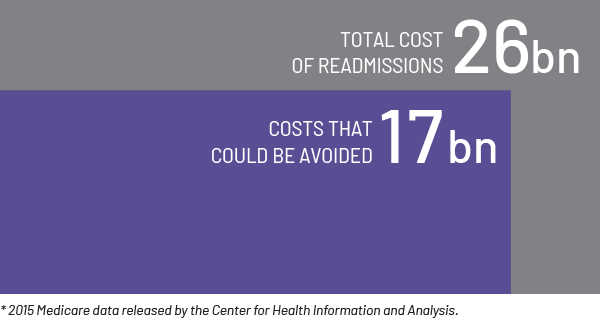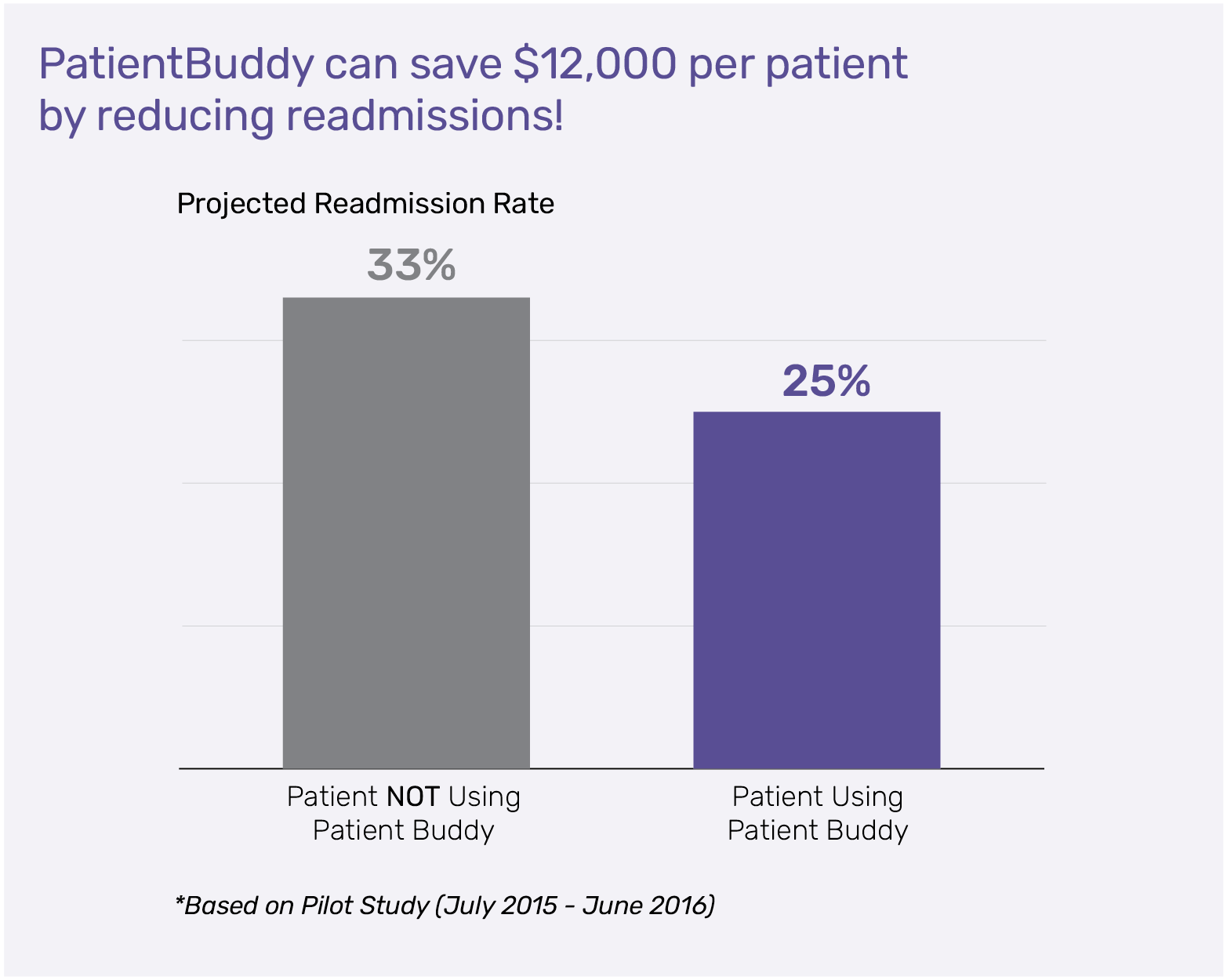 Rising Costs and Penalties (2019)
The average healthcare cost of readmission is USD 12,000
2,583 hospitals were penalized by Medicare
Medicare estimates will cost hospitals USD 563 million
Of the 3,129 hospitals evaluated in the Hospital Readmission Reduction Program, 83 percent received a penalty
The maximum penalty — a 3 percent reduction in payments was assessed against 56 hospitals
1,177 hospitals received a higher penalty than they did last year
1,148 hospitals received lower penalties than last year
64 hospitals received the same penalty as last year
194 hospitals that had not been penalized last year are being punished this year
372 hospitals avoided penalties in the last two years